Peapea Popo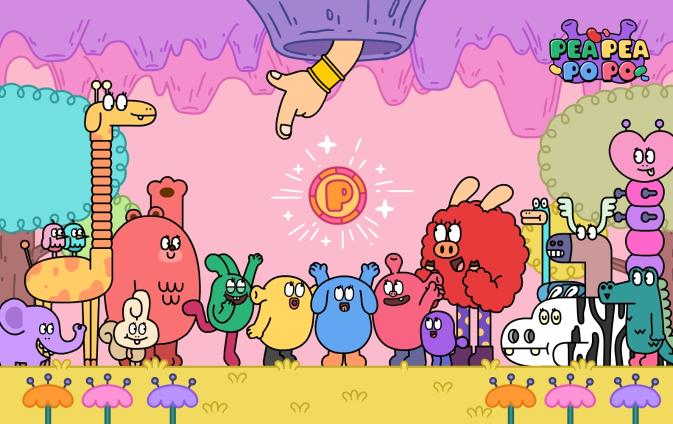 Year of Production

2023
Content Type

2D Animation
Target Age

Toddlers
Quantity

5(min) 104Quantity Input
Production Stage

Projects in Production
Detailed Genre

Comedy
Summary
This story is about the lives of the Peapea Popos in the hidden underground village called "Peppypop". The Peapea Popos are 5 mystical pea fairies sent by the goddess of earth Petunia to look after the animal friends that live in Peppypop. The members of the Peapea Popos, Papi, Bloom, Leafi, Budi, and Peakle, all have distinctive colors and help out the animal friends using their magic. They always manage to find a witty way to solve big and small problems that happen in the village through their cooperation and teamwork. Children will learn about the importance of teamwork and creative thinking in addition to essential skills of social literacy through the series. Shout the magic spell "Peapea! Popo!" and join in on the Peapea Popos' magical journey full of fun and amusement.
Company Profile

Animation Immersive Content
We are GoldFrame Studios, the professional animation production studios in S. Korea from 2017. GoldFrame has been participated in various projects such as production of 'Beat Monster' from Cartoon Network, and TUVAn's 'Rotary Park' 4D dome theater video production in the Jeju Myth World theme park, 'Larva Season 4 - Larva in Island' from TUVAn which is going to be launched in Netflix. Nowadays, We
are promoting our original 3D animation series 'Nana Family', also at this event. Therefore, What we are engaged in now is conducting a co-production, funding, distribution, IP licensing business related to our contents. Also, since our contents is inspired by AI and next generation technology, we plan to combine our contents with AI, AR, VR industries in the future. We already cooperate with diverse companies globally, and expect to expand our business further through this event. Thank you.
Related Content