K-Content News
'Pachinko' named best foreign language series at Critics Choice Awards
January 18, 2023

|

Broadcasting

'Pachinko' named best foreign language series
at Critics Choice Awards
Entertainment 11:18 January 16, 2023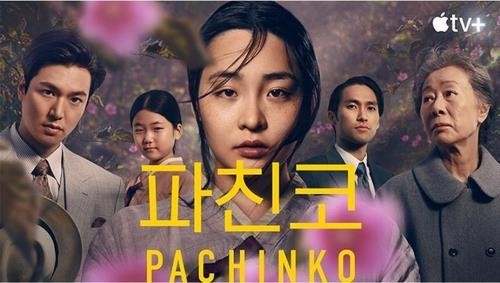 The poster of Apple TV+ original series "Pachinko" is seen in this photo provided by Apple's streaming platform. (PHOTO NOT FOR SALE) (Yonhap)
SEOUL, Jan. 16 (Yonhap) -- Apple TV+'s Korean language drama "Pachinko" has won the best foreign language series at this year's Critics Choice Awards.

At the ceremony held by the Critics Choice Association in Los Angeles on Sunday (U.S. time), "Pachinko" won the trophy in the TV category to beat eight other contestants.

Based on the 2017 bestselling novel by Korean-American author Lee Min-jin, the drama is a sprawling, multilingual epic that examines four generations of a Korean family during the Japanese occupation of Korea and the subsequent racism that followed.

Last year, Netflix sensation "Squid Game" won the best non-English language TV series to become the first Korean show to receive the prize given by a group of 500 film and TV broadcast critics in North America.