K-Content News
A new content world ushered in by 5G
A new content world ushered in by 5G
By guest reporter

Kim Tae-hwan, kimthin@mtn.co.kr

Fifth generation (5G) mobile communication technology allows for more data to be delivered more quickly. 5G, based on the 28 GHz frequency band, is 20 times faster than LTE—fourth generation mobile communication—and has low latency. The delay time for LTE is 20 milliseconds (1 millisecond=1/1000 second), but the delay time for 5G is only 1 millisecond. Currently, it is fairly common to be watching a football game online and see a goal happen a few seconds after it's aired on TV. However, delays like this will soon be a thing of the past since fifth generation mobile communication practically guarantees an equally fast communication speed wherever, whenever.

When the delay time is decreased in this way through 5G mobile communication, the content sector can deliver more data in real time for a true virtual reality experience. Movies can go beyond high-resolution and be created in 4D, making things onscreen appear as if they were happening right before your eyes. Broadcast networks can provide in real time, not just one simple video, but various footage that has been shot from different angles. Games will no longer need to be saved on a PC or console device but can be enjoyed directly from a cloud without downloading. VR, which used to rely on wires, will be available wireless. Reading can also go past simply reading books through an app to the possible creation of an actual electronic book. In many ways, 5G can be seen as a gateway technology, paving the way for an era in which information can be pulled up and videos can be played in the air, all through the use of holograms.
Choose your own ending films… Experiential movies on the rise
The movie Remembering First Love recently gained much attention for its incorporation of VR technology. The audience watched the movie, which was shot in 360 degrees, while wearing VR headsets. This enabled the audience to get a closer look at the world of film by looking to their left and right as they watched the movie.
Movies deliver visual information through the use of a standardized screen. Even though there have been changes in the screen size and resolution over the years, the medium of the square screen has remained unchanged. VR technology completely shatters the concept of the traditional screen. It pulls the audience inside the movie and makes the movie watching experience more real.
Furthermore, VR technologies allow for interaction between the content and the user. Up until recently, data was only delivered in one direction, but with the introduction of 5G mobile communication, movies and audiences can exchange information and interact. When the main character in a movie stands at a crossroads, viewers can even make choices to influence the storyline. This kind of concept is known as 'interactive storytelling.'
The most recent example of this is the VR film 11 11, presented at SXSW. The film tells the story of six characters who have to escape from the planet in 10 minutes. The viewer can choose to be one of the six characters and enjoy the story from the character's point of view.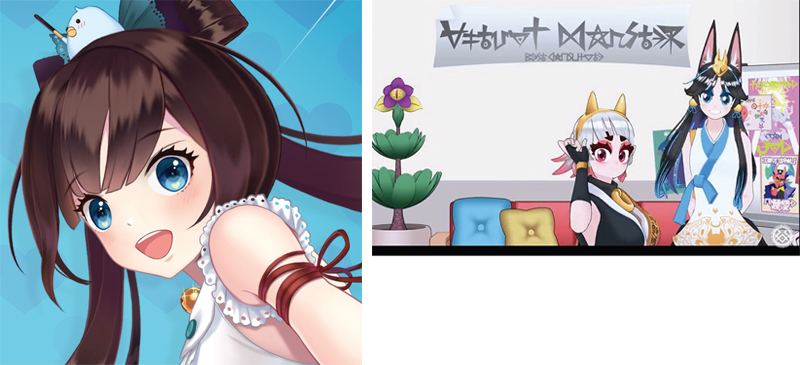 Virtual YouTuber, SE:A, is the talk of the town. She was first created for game promotion but has continued to be uploaded and now presents other content. (left) ©Smilegate "Virtual Monster," a YouTube video channel that reflects a Korean worldview through the use of Korean characters, like the Korean goblin and nine-tailed fox. (right) ©Sandbox Network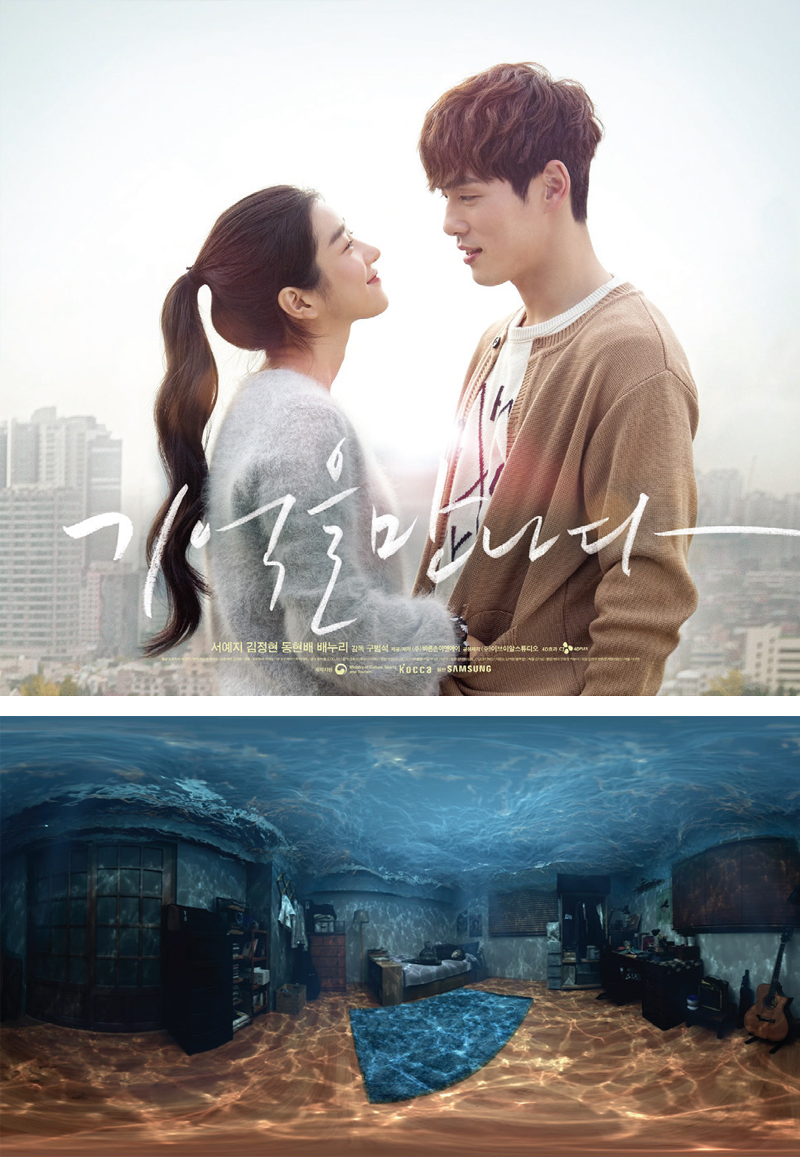 Poster (above) and scene (below) from the 4DX movie Remembering First Love, which combines VR and 4D effects. The production process required the actors to film the scene and then wear a VR headset to check the filmed footage. ©Locus
The rise of the virtual YouTuber through real-time 3D rendering technology
A virtual YouTuber is a virtual character that hosts an online show. The broadcaster creates the character and dubs it by using a program such as Motion Capture. The character mimics the broadcaster's actions and mouth movements. More than anything, a virtual YouTuber must have real-time 3D rendering technology as its foundation. That is why the wide bandwidth and fast speed of 5G is so essential.
The top Japanese virtual YouTuber, Kizuna AI, has 2.4 million subscribers. She is so popular internationally that she was appointed tourism ambassador by the Japan National Tourism Organization. In Korea, SE:A has gained popularity as a virtual YouTuber. She was originally created for game promotion, but she quickly gained popularity as she began being used for various contents such as daily vlogs and Q&A videos.
Sandbox Network was the first local mobile MCN (multi-channel network) to launch a YouTube channel featuring a virtual YouTuber. The channel, named "Virtual Monster" tells the story of two alien characters—Do Chabi, the goblin, and Ho Yori, the nine-tailed fox—as they move to and live on Earth to escape the world of the demons. The channel is different from other VTuber (virtual YouTuber) channels in that it reflects a Korean worldview.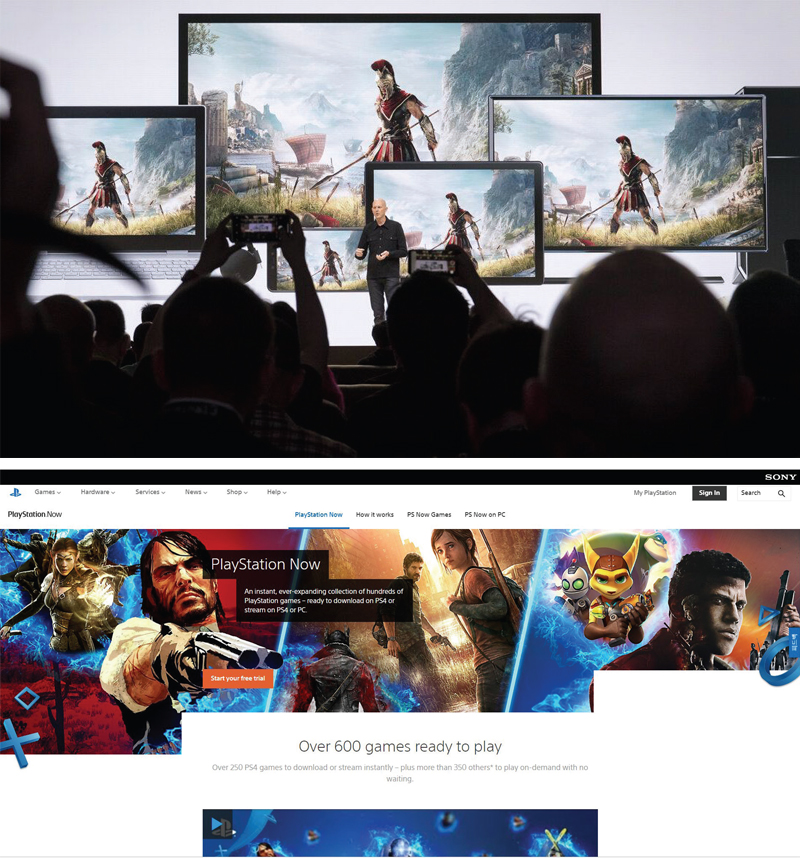 Last March, Google presented its cloud gaming service Stadia. (left) ©Google In response, Sony also entered the cloud gaming service arena with the release of PlayStation Now. ©Sony
Play anytime, anywhere… The increasing popularization of games
We are now entering an era in which high-capacity, high-resolution games can be enjoyed anytime, anywhere without a PC or console. Previously, a high-capacity game program had to be installed on a device like a PC or console before it could be played. That is why, for gaming, devices had to have a high capacity, and mobile phones, which are relatively low in capacity, weren't suitable for high-quality games.
In the era of 5G mobile communications, game programs can be saved in a cloud, and high-quality games can be enjoyed even on low-capacity mobile phones. Sony's popular console, the PlayStation 4 is about KRW 400,000 and its VR package costs about KRW 1 million. A gaming computer typically costs about KRW 1.5 million. The launch of 5G mobile communication can create a world where it is no longer necessary to purchase expensive devices to play high-quality games.
Last March, Google launched its cloud gaming service Stadia, which allows gamers to enjoy games at 4k resolution and 60 frames per second anytime, anywhere. Through Stadia, gamers can play games and even share their player status with other people. Sony also provides cloud gaming services with PlayStation Now and recently formed a partnership with Microsoft.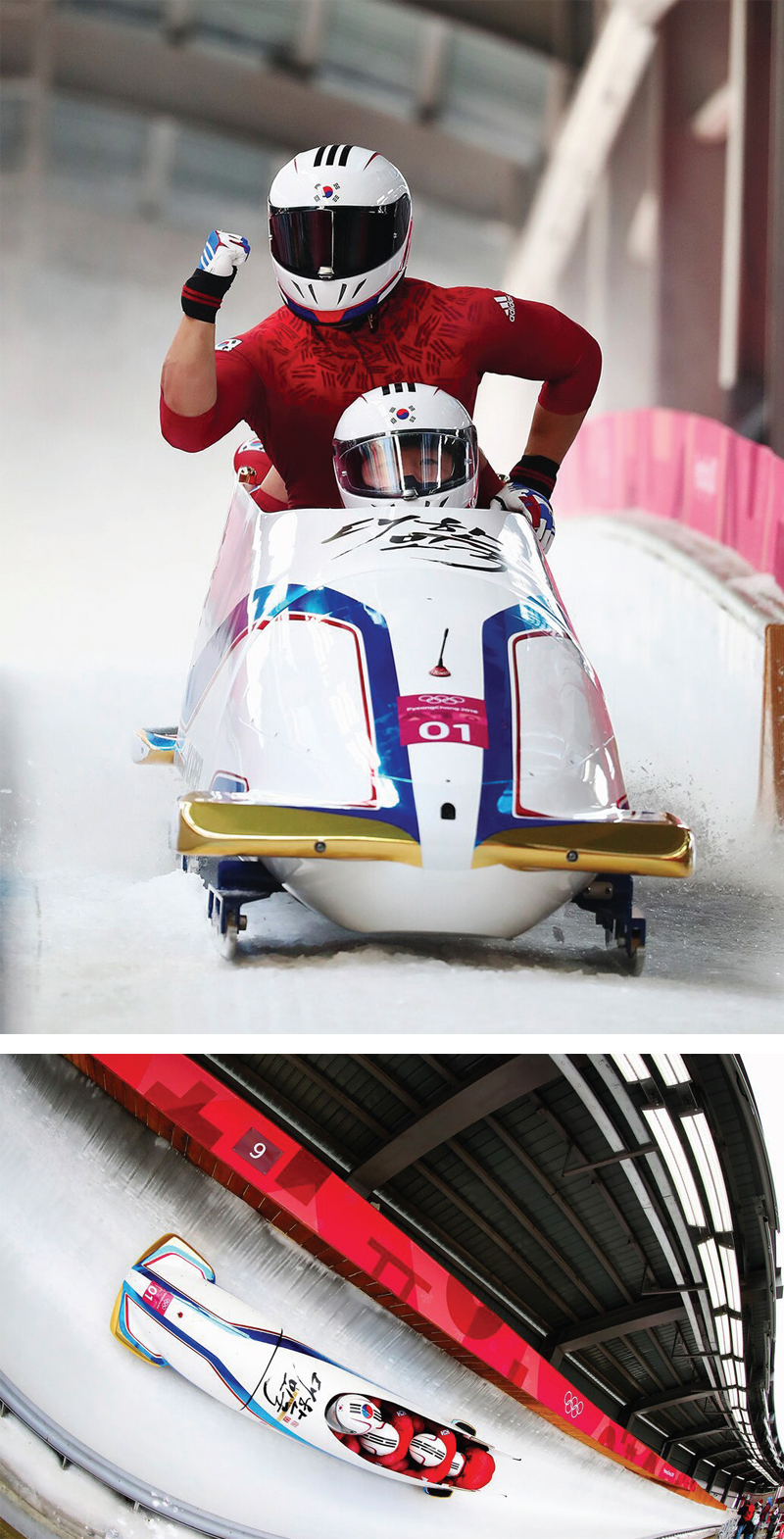 5G mobile communication was used during the bobsled race at last year's PyeongChang Winter Olympic Games. ©2018 PyeongChang Olympics Organizing Committee
Change in unidirectional viewpoint… Real-time live broadcast with low latency
Last year's PyeongChang Winter Olympic Games featured a true real-time live broadcast. For this special broadcast, 5G mobile communication was used to deliver the data from a camera attached to a bobsled to viewers in real time.
If we assume that the bobsled is moving at a speed of approximately 100 km, we can calculate that the sled moves 27 m per 1 second. LTE has a delay time of 0.03–0.05 seconds, which means that the initial footage reaches the viewer after the sled has already moved an additional 0.81 m–1.35 m. In other words, the sled the viewer is watching has actually moved 1.35 m farther in real life at the actual race. 5G mobile technology, on the other hand, has a delay time of 0.001 seconds, which means that the real-life sled outpaces the sled seen by the viewer by only 2.7 cm. Overall, even when accounting for a slight margin of error, there is almost no difference felt between the viewed footage and the events happening at the real-life race.
5G broadcasts also offer: 360-degree viewing through the use of cameras installed at different angles; slow-motion viewing of important scenes or events; the viewing of multiple broadcasts all at once; and the viewing of athlete footage. Previously, these types of contents were only available for viewing after footage was edited at the completion of a competition. However, with the use of 5G mobile communication, which delivers high-capacity, high-speed data with ultra-low latency, viewers can enjoy all of these features in real time.