K-Content News
Culture ministry seeks to expand horizons of 'K-culture' to traditional music, sport
May 24, 2023

|

Music

/

Other

Culture ministry seeks to expand horizons of
'K-culture' to traditional music, sport
Art/Culture 16:50 May 16, 2023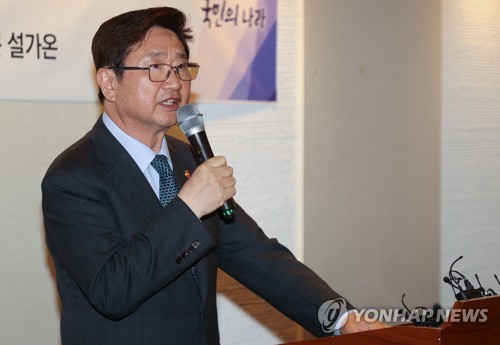 Culture minister Park Bo-gyoon speaks during a luncheon meeting with reporters at a Seoul restaurant on May 16, 2023, to mark the first anniversary since he took office. (Yonhap)

By Shim Sun-ah

SEOUL, May 16 (Yonhap) -- The culture minister said Tuesday his ministry will persevere in broadening the scope of "K-culture" beyond the realm of contemporary pop culture with a focus on providing support for books, traditional Korean music, musicals and ballet this year.

Minister of Culture, Sports and Tourism Park Bo-gyoon also emphasized the significance of the "K" prefix, which is commonly associated with Korean pop culture, such as K-pop and K-dramas.

"This year, the government's support for K-culture will be focused on such fields as books, the traditional Korean music of gugak, musicals and ballet," Park said during a luncheon meeting with reporters at a restaurant in central Seoul. The meeting was held to mark his first anniversary as the country's top cultural policymaker.

He especially vowed to cultivate gugak as "a killer content of K-culture," saying he became convinced gugak can gain popularity beyond that of BTS and BLACKPINK after watching young people performing the music in a concert he attended together with MZ Dreamers, a group of his policy advisers composed of people in the MZ Generation.

"The prefix 'K' becomes a magic wand as soon as it is used as it enhances the global appeal of the words associated with it. Even a convenience store becomes popular in Southeast Asia if it is labeled as a K-convenience store."

In sports, the ministry is discussing ways to globally promote the traditional Korean wrestling known as "ssireum," confident that the sport can have sufficient marketability and competitiveness if it is introduced worldwide, he added.

"Ssireum" was added to UNESCO's Representative List of the Intangible Cultural Heritage of Humanity in 2018 following joint efforts by South and North Korea.

Looking back on his past year in the position, Park defined it as a "time to apply the philosophy of freedom and solidarity of the Yoon Suk Yeol government to make it a culturally attractive country."

"Freedom produces originality, imagination, sensitivity, boldness in the world of culture and art, and solidarity promises consideration for others and an approach to culture and art without discrimination," he explained.
Culture minister Park Bo-gyoon speaks during a luncheon meeting with reporters at a Seoul restaurant on May 16, 2023, to mark the first anniversary since he took office. (Yonhap)

He cited various programs devised by the ministry to utilize the former presidential office and residence compound of Cheong Wa Dae after it was opened to the public as one of his biggest achievements as culture minister.

Cheong Wa Dae was opened to public access immediately after Yoon took office about a year ago, ending its 74-year-old role as the site of the presidential office and residence, in line with Yoon's pledge to relocate the top office.

"It was a moment when the door to the heart of power and imperial authority was opened," he recalled.

The ministry has since announced plans to use it as an art center and transform it into a tourist landmark in central Seoul, combining its rich cultural and historical resources with the nature of Mount Bugak in the surrounding area.

He emphasized he had created the programs based on four major categories, namely presidential history, culture and arts, well-managed forest resources and traditional cultural assets. "I made efforts to utilize the facility in a more organized way," he added.