K-Content News
Hoping this crisis will turn into an opportunity Content Step-up
Hoping this crisis will turn into an opportunity
Content Step-up
As the social distancing due to COVID-19 continues, the demand for non-face-to-face industries is increasing as well as the interest in VR/AR technology. The Korea Creative Content Agency prepared the Content Step-up program amid the non-face-to-face trend brought by COVID-19 to talk about the latest trends in immersive content that opens up new possibilities in this era, making us realize how much VR and AR technology has come into our lives.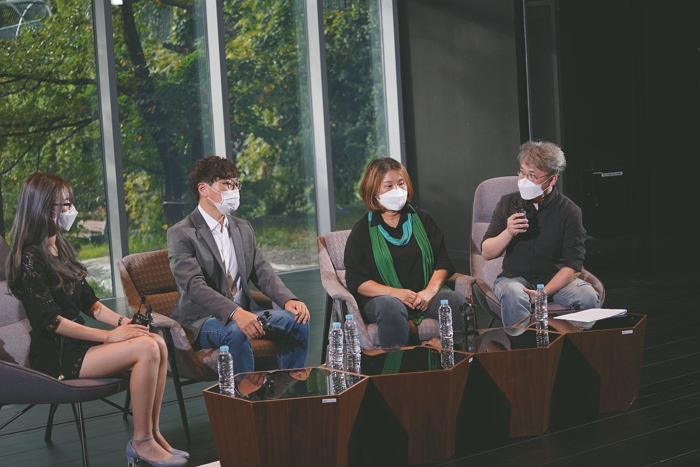 Content Step-up, now an online class
Content Step-up, a job training program of the Ministry of Culture, Sports and Tourism and the Korea Creative Content Agency ("KOCCA"), has expanded the non-face-to-face online education and reflected the actual demand and trends in the industry such as immersive content, AI, and cloud gaming to cope with the COVID-19 situation. In particular, at Content Step-up, which was held over two days from October 6th to 7th, shared the successful examples of local content with local content-related workers and institutions and presented the newest technology trends such as immersive content under the theme of "content Beyond Local Limitation". The special lecture drew the attention of many as it was available on the official YouTube channel of KOCCA.

On October 6, the examples of private-public cooperation such as the animation Katuri and the musical The Legendary Little Basketball Team were introduced under the theme "Local content Beyond Limitation – Public-Private Cooperation Cases". The theme for October 7 was "Emergence and Future of Non-Face-to-Face content". With "Beyond Reality" of Bucheon International Fantastic Film Festival as the example, the immersive content market trends were studied, and the lecture titled "Immersive Content Production Technology in a Non-Face-to-Face Era" got a great response.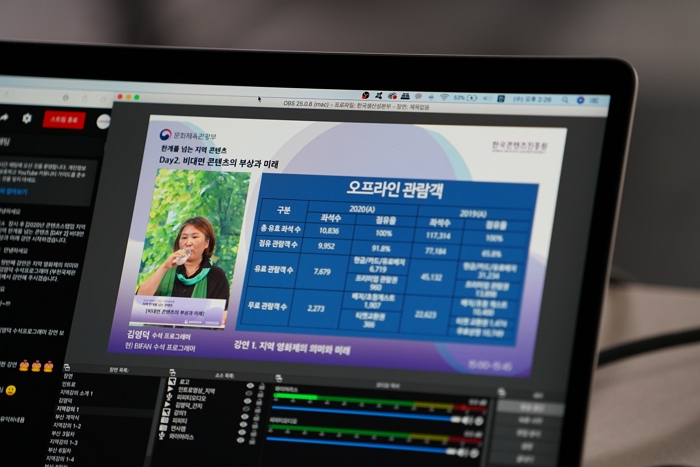 The current address of immersive content production technology
In particular, the lecture by Beomju Lee of Unity Korea under the title "Immersive Content Production Technology in a Non-Face-to-Face Era" was a meaningful time to acquire information and knowledge on the standard of immersive content production technology and the strategies and methods to utilize it in the future.
Unity is a company that makes game engine technologies and integrated development environment (IDE) and uses the Unity engine to create various immersive content using 3D, 2D, AR, and VR. It was first used only for games, but now its use has expanded to various content including animation, ads, and films.

Director Beomju Kim introduced content that were recently made using Unity and filled the lecture with no-contact event trends and the story of various projects of turning the no-contact trend in the post-COVID era into an opportunity. Starting with a short animation produced with Unity, Kim showed that it is possible to create high-quality immersive content, taking examples such as a Nike ad campaign that was implemented in a short time or a game promotion video featuring BTS. Then, he explained the no-contact trends triggered by COVID-19 including the virtual classroom environment in which people can gather for a lecture or discussion, the virtual exhibition hall at a mobile device exhibition, the virtual conference for lectures and meetings on social media, and the virtual concerts of singers.
"All these trends began from concerns and technological background about coming up with a method to meet with others safely. Recently, Korea has been creating exhibition halls and class environments that suit the no-contact trend. By continuing this, it can be expected that a whole village, a city can be created with it."
Director Kim went on to talk about the development of digital humans and virtual production, which are creating possibilities in the post-COVID era. In particular, he predicted that digital humans, which are becoming more precise, will act as the next-gen OS and take the center stage in the era where people engage in computing activities through conversations, and he added many companies are researching with interest.
Lastly, Kim introduced the technical base of Unity, which will be used to create various content like XR content and then wrapped up the session by saying, "In the future, there is an open possibility that a story will gradually form a worldview and develop as an 'evergreen content' evolving within the worldview."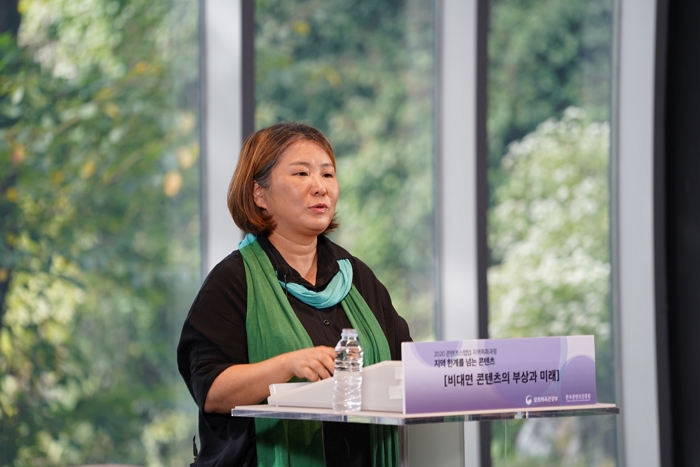 Speaking of the future of contactless content
With Prof. Hyeonjeon Kim of Semyung University as the emcee, a talk with Yeongdeok Kim, programmer of Bucheon Fantastic Film Festival, Jongmin Kim, XR curator, and Beomju Kim, Director of Unity Korea was held. The talk titled "Emergence and Future of Non-Face-to-Face content" focused on answering the questions asked by the online participants.
To a question about what distinguished Bucheon International Fantastic Film Festival that was successfully hosted amid the COVID situation and about the changes being made to the local film festivals around the world, the XR curator Jongmin Kim answered, "We didn't know what to do because everything was being postponed and canceled, but after that, we have been making efforts to differentiate ourselves. Actually, this is becoming an opportunity for an innovation in the film art industry, which has been static for past the 100 or more years."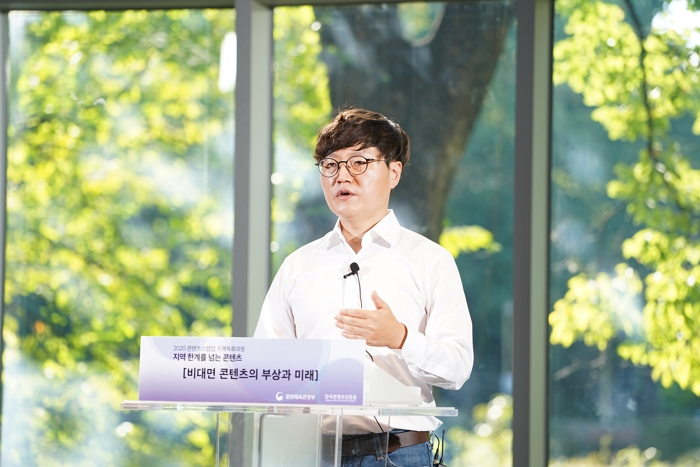 Especially as an XR curator for a film festival, he shared his anticipation saying, "There are predictions that the way of communication will change when the XR technology develop. Finally, technology is in the stage of being experimented with and made. In the future, the film festival will work on this opportunity to be innovative and continue to be novel." There was a question on whether there are special things to be considered when creating immersive content and about special know-how. Director Beomju Kim answered, "One day, VR or AR, and ultra high definition media will come into daily use, so when creating immersive content, one shouldn't miss the trend." He also emphasized the speed of content production, which should be fast enough to provide content as soon as possible using the real-time pipeline before people become familiar with immersive content. To Yeongdeok Kim, a programmer from Bucheon International Fantastic Film Festival, was asked a question about the future direction of the film industry with the OTT services like Netflix and YouTube rapidly growing. Kim started his answer by saying, "Film is a media that has been around for over 100 years, but this year was like the "changes to be made to the industry someday" happened in reality." "The multiplex culture, which was adopted only dozens of years ago, will hit the peak, and the use of an individual screen will become popular. If people can watch a movie at home and still feel connected and belonged to a virtual community, they can feel like watching it with a group of people in their own room. In the future, it will be possible to host a film festival where people are physically apart but still connected," said Kim.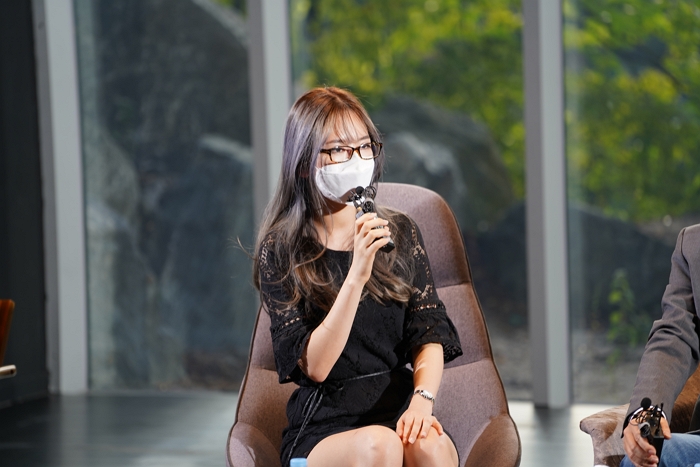 "For creative people, this risk can become an opportunity, and they will be able to overcome reality and move forward."
To a question asking the future possibilities of immersive content, Director Kim emphasized, "We used our imagination to find the context and way of communication, but AR enables us to be more productive and creative with our ideas with the help of the device." "Immersive content will play a major role in making our lives richer and efficient," added Kim.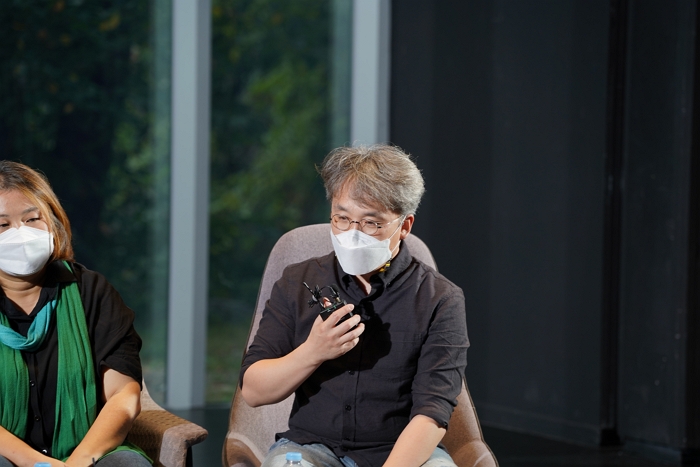 In wrapping up the talk, programmer Yeongdeok Kim expressed his aspiration, "I'm enjoying the new things I have to worry about as we changed the conventional way of hosting the film festival to host it the contactless way. I'm hoping that we will be able to find the answers to my concerns in next year's film festival." "XR and the conventional content are being integrated. Whether they are performance art, film, or novel, we will have to think about their essence. Technology will be brought to us more easily than before, and we will experience the concepts being expanded. The first step would be to break away from the attitude of refraining from things you've never done before," added XR curator Jongmin Kim.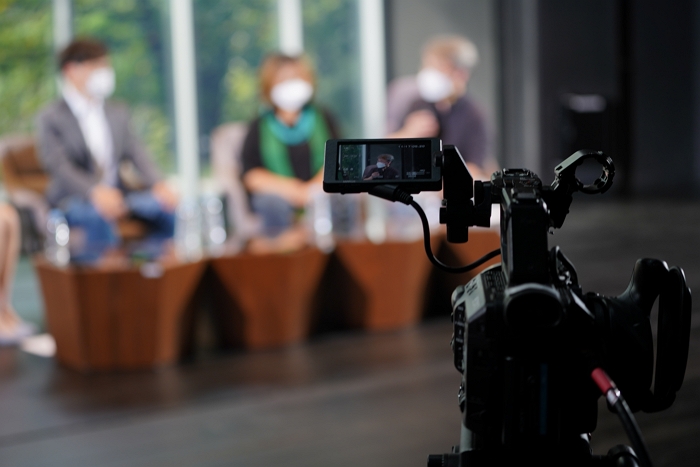 Content Step-up was a program in which we learned the development and trend of non-face-to-face content that was brought to us earlier than expected due to COVID-19 and listened to the insights of the experts who are coming up with their own solution to the post-COVID era in their area. It was also a meaningful time that showed the direction to those who are interested in the rise of non-face-to-face content and its future and are paying attention to its trend.