Edventure in Asia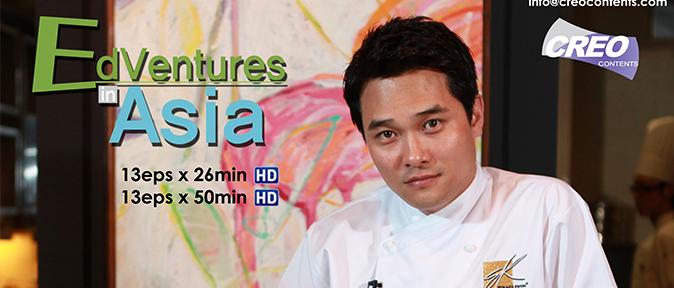 Year of Production

2012
Content Type

Documentary
Platform

TV Channel
Target Age

Family
Quantity

50(min) 13Quantity Input
Summary
Edward's Challenge to develop new fusion dishes which represent the tastes of Asia! Edward Kwon is Korea's top celebrity chef! He gets on a long road trip around Asia for the purpose of developing new fusion dishes in which his culinary world and the authentic tastes of Asian countries are integrated. He will encounter with some of Asia's best fusion chefs, and experience the world of new tastes that these chefs has pioneered. He will also be asked to accomplish various missions, and while doing these missions we will discover the secrets of a country's traditional cuisine has kept for a long time. What would be the definition of Asia's taste he felt? And, how his experience would be reincarnated into a new dish?
Company Profile
Broadcasting
Creo content
- Based on the know-how of image contents and a wide range of domestic and overseas networks
- It is a video content production and distribution company established.
- Broadcasting program It is a registered company which is registered as an independent production company.
- We are supplying the programs with pre-production and outsourced production.
- By creating excellent programs, we will be able to provide new sources of Korean
- We are raising the value of Korean video content in the international community.
- Video media, such as TV, movies, animation, mobile and other new media
- It is an enthusiastic company that responds quickly and actively to content demand.
- Trustworthy partners who build win-win content business models based on trust
- We are doing our best to become.
Related Content